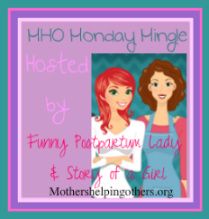 Welcome back to the Monday Mingle!
Hosted by
This Week's Theme: SECRETS
This Week's Questions:
1. Without giving to much info, what is the biggest secret you've ever kept?
Oh "lawd have mercy" I could tell you a thing or two! Me and my BFF have done some "cutting up" in our day. God knows they would put us under the jail if we spilled the beans! HAHAHA!! Seriously, I can't even mention some of the things we've done. Okay, I'm kidding. Not really. Next question.
2. Have you ever kept a secret from your Significant Other? Do you think he/she has kept any from you?
Sure have. There are things I haven't told my husband, but nothing that I think would make or break us. Stuff I would tell him if he asked but just drama stuff he doesn't need to know. I'm sure there are things just the same he hasn't told me. I trust him though.
3. Who is the first person you would automatically want to tell a secret to?
My BFF of over twenty years. I'll call her at 3am if I have to. Oh, and the hubs. He is easy to talk to. But sometimes I want to talk about him or something relating to him so it's usually my BFF.
4. Any secrets you want to get off your chest? Even if it's from the third grade, still counts.
Nope, none that I can think of. I've never been good at keeping secrets and always hating lying.
5. Are you good at keeping secrets? Why or why not?
No, but there is only one person I run and tell and she has been my BFF for over twenty years so I know I can trust her.
Okay, now it's your turn. Grab the button and questions and repost on your page!!! You don't have to answer the questions, you can just repost the button. Link your post up and mingle with other bloggers!!! No rules, just meet new people!
Next week's theme: DRAMA