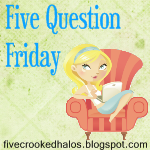 I've linked up with My Little Life for 5QF. Go check her out and link up!
1. W
ho wakes up in the morning with the kids, you or hubby?
Hubby wakes up the older kids and feeds them breakfast. He sends them off to school. I get up with baby and we leave early. He gets baby up on the weekends so I can sleep in.
2.
Do you watch the World Series even if your team isn't in it?
I do not watch the World Series.
3.
What is the best compliment you have received?
Someone told me I was the smartest person they met. This came from someone extremely intelligent, so it made my day.
4.
Do/did you dress up to take your kids trick or treating?
I guess I haven't. My husband and I have briefly talked about dressing up as Zombies, but I might scare my baby.
5. D
o you have a favorite bible verse? What is it and why?
Isaiah 43
But now thus saith the
Lord
that created thee, O Jacob, and he that formed thee, O Israel, Fear not: for I have redeemed thee, I have called thee by thy name; thou art mine.
2 When thou passest through the waters, I will be with thee; and through the rivers, they shall not overflow thee: when thou walkest through the fire, thou shalt not be burned; neither shall the flame kindle upon thee.
I've been through some waters, rivers, and fires, and God has managed to bring me through it all. I can't even tell you how much He has saved me from. Mostly saving me from myself...if that makes sense.